Buddy's top 10 best spots to surf in California
Rincon, Santa Barbara

Rincon is located just off Highway 101 on the border of the Ventura and Santa Barbara County line in Central California. On a good day, this long right point-break will leave you with rubber legs. It is divided into 3 breaks: the Cove, Rivermouth, and Indicators. Over the years, Rincon has been the surf spot responsible for much of surfing's progression, as well as spitting out such well-known rippers as Tom Curran and Bobby Martinez.

---
Trestles, San Clemente

This gem of Southern California lies at the San Clemente city limits; at the mouth of San Mateo Creek. Trestles is a long stretch of beach, encompassing Uppers and Lowers, and home to a variety of wave features; lefts, rights, sandbars and a beach break. It's also home to big events in the sport like ASP World Tour events and the NSSA Nationals.

---
Mavericks, Half Moon Bay

Mavericks is a famous cold water break in Northern California. This right point break is most popular in the Winter when big wave riders come from around the world to test the limits and ride giants. Warning: Mavericks is not the best place to paddle out for visiting beginners. Spirited locals are not afraid to let themselves be heard...often by means of slashing your car tires.

---
Cardiff Reef, San Diego

One of the more popular places to surf in San Diego County since the 1940's. It's the flat rock bottom just beneath the surface that creates some juicy waves. This wave is a nice peak that all types of surfers enjoy year-round.
---
Steamer Lane, Santa Cruz

Notorious for it's cold water and world-class rides. Today, the lineup is increasingly crowded, but on a big day, the crowd thins down to only the bravest souls. It's the surf spot that Jack O'neill once called home and where he came to develop the wetsuit... thanks Jack. If you're not in the water, the cliffs just above the point provide a perfect vantage point.
---
Salt Creek, Dana Point

Orange County locals began calling Salt Creek their favorite surf spot back in the 1960's when it cost 50 cents per day to park in the dirt lot. Things have changed since then; it's now 1 dollar an hour to park, and it's a paved lot, but the Point, Middles, Gravels, and ROTP (rights of the point) still hold a consistent and clean wave. If the waves are no good, there is always plenty of OC housewives to play frisbee with.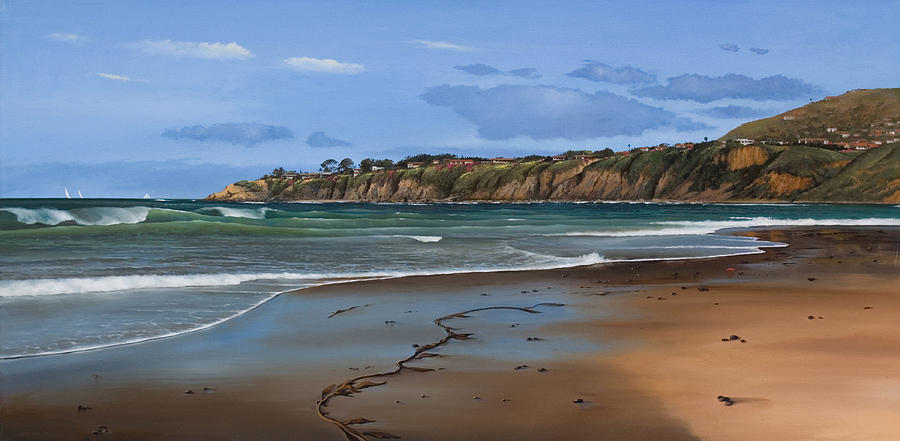 ---
Blacks Beach, San Diego

Just below the bluffs of Torrey Pines you will find Blacks beach, full of nudist and heavily stacked...waves. Due to an underwater canyon, Blacks is the proud owner of San Diego's most powerful waves. A surf spot which is not recommended for any beginner surfer. Even the goat trail down to the beach is dangerous, so be weary.
---
Huntington, Huntington Beach

Huntington boasts what some say "the perfect wave," as well as strong roots in the surfing history of California. Not to mention, it is home to the annual world surfing championships. With beautiful babes in bikinis, dudes throwing pigskins and shakas, surf industry giants, freaks, geeks, and everything else in between... nothing says California like Huntington Beach.
---
Malibu, Los Angeles
For many southern California surfers, it is an epic wave. Malibu is typically a slower/smaller break, perfect for longboarders and adventurous AARP members. On big south swells, the First, Second, and Third point can all connect to form a long right hander...really long. The only downside: weekends with thousands of Utah's finest Keaune Reeves stunt doubles.
---
Oceanside Pier, Oceanside

Even in the summer, this Southern California spot boasts consistent and fun waves. It is a peaceful and sublime place, with families taking evening walks along the pier while listening to the soothing sound of ricocheting bombs and heavy artillery coming from nearby Camp Pendelton, the busiest Marine base in the United States.

---